Site Preparation Contractor | Buffalo, NY Area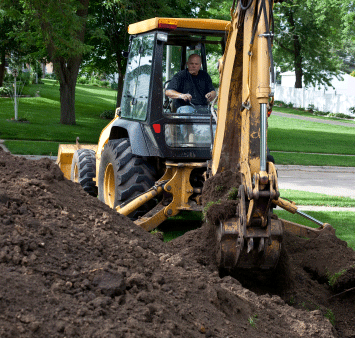 A solid foundation is the key to success. And creating a solid foundation starts with Ground Effects professional site preparation contractors. Whether you are interested in building your dream home, adding an outbuilding, or constructing the perfect outdoor oasis, you need proper site preparation.
Our team specializes in helping our Buffalo, NY commercial and residential neighbors with their site preparation, excavation, and grading needs for their individualized projects. We excel in all aspects of site preparation by priming the site for construction by removing all vegetation, structures, and debris that may interfere with your vision. Then we meticulously level and grade the land to accurately provide you with a clean slate necessary for construction.
Let our trained professionals who have the knowledge, equipment, and expertise help you create the solid foundation necessary for your new project. No matter the size, we get the job done in a safe and timely manner. Call us to speak with one of our experienced team members to schedule an appointment to get your project started today.
Ground Effects specializes and exceeds expectations in:
Trench & drain excavation
Land drainage
Pond digging
Levelling
Rough grading
Finish grading
Grubbing
Earthmoving
Lawn installation and renovation
Driveway building
Retaining wall preparation