Excavation Services Contractor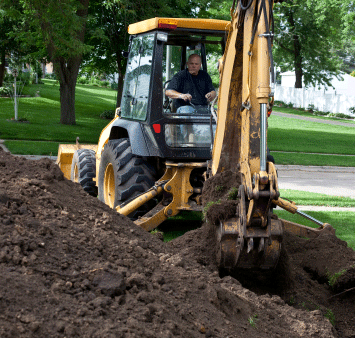 Whether you are interested in thinning out brush and trees, building your dream home, or creating the perfect outdoor oasis, almost every outdoor project requires excavation service. Before you reach for your shovel, pick up the phone and let Ground Effects provide you with professional-grade excavation services.
Our team understands the importance of proper site preparation and specializes in helping both commercial and residential clients with all their excavation, site preparation, and grading needs for their individualized projects. We prepare the site for construction by removing all vegetation, structures, and debris that may interfere with your vision. Then we meticulously level and grade the land to properly provide you with a blank canvas necessary to make your dream a reality.
Residential Excavation Services
Ground Effects can assist you with the clearing of your land or lot on your residential property. We can help you prepare for a new home, septic tank, or driveway.
Commercial Excavation Services
No matter the size of the job, our team can handle the excavation needs for your company's foundation, sewer, parking lot, or landscaping goals.
We specialize in:
New home site preparation
Lot flattening, clearing, & leveling
Trench & drain excavation
Rough & finish grading
Concrete & asphalt removal
Tree & stump removal
Pond digging
In-ground pool digging
Brush clearing
Retaining wall preparation & construction
Whether you're installing an inground pool or a pond or simply need to move soil, sand or gravel - we can help. Contact us to schedule an appointment to get your project started. We have a diverse fleet of clearing equipment and the experience to get the job done quickly, efficiently, and affordably. If you can dream it, we will clear it!