Bush Hogging Service in WNY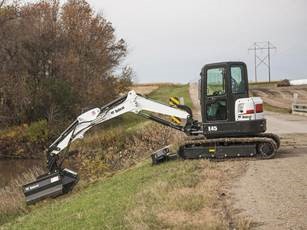 Overgrown brush and unkempt vegetation can take a toll on your home's curb appeal and value. Bring back your property's natural beauty with brush hogging services from Ground Effects Site Services. No brush clearing job is too big or too small.
At Ground Effects Site Services, we use heavy-duty equipment to simplify the otherwise dirty and time-consuming task of clearing land. The industrial-strength steel brush hog blades rotate up to 150mph, quickly mowing through vegetation while bouncing over rocks and stumps.
Our brush hogs can easily tackle:
Overgrown yards, lots, and fields
Unmaintained pastures
Large lots of natural vegetation with thick and wild brush
Prepping land for future development
Preparing land for survey by cutting through for a line of sight
Weed growth
Removing unsightly brush and small trees
Uneven terrain
Clearing roadways, medians, and ditches
Contact us today to schedule a free estimate for professional brush hogging services. Our skilled and detail-oriented team will get the job done safely and in a timely manner.