Landscaping Design Services in Niagara & Erie County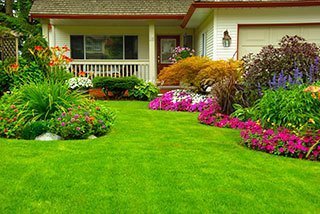 Whether you want a completely new lawn or need to revitalize an old one, we're the team to call. Our tractors provide finish grading and soil conditioner that prepares your soil for seeding. You'll see a noticeable difference after our grading services, and with the ground completely leveled off, your seeds can grow freely.
We're experts at new lawn installs and restoring lawns that are showing their age. We also offer landscape design, paver patio design, landscape installation and more. To learn more about how we can transform your lawn or about any of our lawn maintenance services, call (716) 609-1914 today!
Our services include the following:
Garden Landscaping
Grass & Shrub Trimming
Lawn Grading
Lawn Installs
Paver Patio Design
Mulching
Patio Landscaping
Construction of Retaining Walls
Spring & Fall Clean-ups
And More!
Our team can create the perfect custom landscape design you've always dreamed of. At Ground Effects Landscaping & Snowplowing, we specialize in customizing landscape design for both home and business owners.
Our landscape contractors will visit your property, take photos, complete an analysis and propose a layout. If you have an idea in mind, let us know and we'll start with that. If you aren't sure where to start, let us take over. We'll provide you with suggestions for mulch, plants, stone and more. Our goal is to design and install the ideal landscape to meet your needs and wants. And we'll keep taking care of your new design with our landscape maintenance services.
---
Retaining Walls
Landscape installation done right can completely transform any yard. Our team can install garden walls that retain soil so that you can raise flower, shrub, or plant beds. Retaining walls are important for landscape design because they hold back soil and rocks that could otherwise slide into your lawn or patio. If you need retaining walls in the Niagara County area, there is no better company to call. Ground Effects Landscaping & Snowplowing has got you covered.
Retaining walls help create lawns and gardens that are beautiful and inviting. From traditional to rustic, there are many different styles of wall that can be installed on your property to match your home's style. We have natural and man-made stone options for you to choose from. Our consultants can make recommendations to you, or you can tell us exactly what you have in mind. Keep in mind, our retaining walls come with a 2-year warranty.
Patio Landscaping
If you are looking for an outdoor space to entertain guests, a patio is the perfect way to bring people together. Before investing in a patio, it's important to consider what you want out of the space. Patio design varies to include fire pits, grills, outdoor fireplaces, outdoor kitchens, dining and seating areas.
Our team is full of paver patio design experts. Allow us to assess the space and make our recommendations. Once the patio is complete, we can always add elements including flower beds, plants, shrubs, and more to complete the look. To learn more about any of our landscaping design services, call (716) 609-1914 today!